"The little person on the glasses is the Oerbier man, a simple creature who holds a brewers fork in his right hand, symbolizing the work and science, but looking to the other side, the result of all this, the glass of (Oer)beer."
Pending Updates Winter 2015

- Various De Dolle swag and glassware
- 80s/90s Euro bottle pictures
- Export Stout photographs
- Stille Nacht Reserva 2010/2013 details
- 1990s De Dolle Calendars
- B. United Tap Handle
One of my favorite breweries in the world is De Dolle Brouwers from Belgium. There's a large amount of information online about them, but it's spread across various webforums, mailing lists, et cetera. Over the years I've read a lot of it and I decided to cobble it all together to help me out, and help out folks who are looking for more details.
I'm indebted to Sean Clark, Mike Wright, Brad, and many others for sending me old bottles, gathering info, and general encouragement.
The Yeast Change and the Reserva Series
"Interesting to notice that in the beginning of Dolle brewing in 1980, the Rodenbach yeast was freely available.
At that time, Oerbier was made with Rodenbach yeast, and gave - as such - those wonderful sour Rodenbach flavors. Ageing the beer was no problem, and even improved the qualities. That's the true wonders of the Rodenbach yeast.
The Oerbier, in that period, reached about 7.0 vol% only.
After the bry. Rodenbach overtake by Palm Breweries in 1998, things significantly changed at De Dolle.
It was Palm Breweries who decided not to give away the Rodenbach yeast anymore to other breweries.
The exploding bottles of Stille nacht were emptied into used wine barrels and aged for 18 months, bunged with upturned Stille Nacht empties. This beer was bottled as the famous Stille Nacht Reserva 2000.
John White provides a wealth of information on the provenance of the wine barrels in this post on the Burgundian Babble Belt:
"The casks ... were from the Château Léoville-las-Cases, from the Saint Julien commune. ... The casks were actually obtained via Cantillon, the renowned producer of Lambics and derivatives in the Brussels suburb of Anderlecht, who have very good relationships with a number of renowned wine producers in Bordeaux."
"We poured the beer into wine barrels and bottled them as Stille Nacht Reserva 2000 after 12 months. The attenuation dropped to 1000, even lower and the taste was really something exceptional. The empty barrels were then filled with Oerbier so we had Oerbier Special Reserva one year later. With the Reserva series we had so much time that sometimes it matured for over two years in the barrels, thinking that it could only get better by the passing of time."
There have been vintages of Stille Nacht Reserva made from the 2000 (750ml), 2005 (330ml), 2008 (750ml), and 2010 batches, though of the last two the 2008 is "friends-and-family-only" and the 2010 has not yet been released (as of 1/2012).
There have been vintages of Oerbier Reserva produced from the 2002 batch (in the used SNR2000 barrels), and every year from 2004 to the present in a mixture of old and new barrels. All distributed releases were in 330ml bottles, though some 750ml bottles of 2008 were hand-filled at the brewery. Oerbier Reserva is typically bottled and released late in the year following the vintage date. The most recent release (as of 1/2012) was the 2010 batch, bottled in 2011, which was distributed into US markets beginning at the end of October 2011.
One vintage of Dulle Teve Reserva was produced from the 2003 batch, this one using Calvados barrels ("[aged] over 24 months in wooden casks previously used by Etienne Dupont/France to mature his famous Calvados de Normandie" -- B. United Sell Sheet (PDF) Oct 2012) and in 330ml bottles. It was bottled and released in 2005.
In 2004, De Dolle was able to reculture the yeast from old kegs of Stille Nacht that had been returned from Finland, and built a lactic propagator to restore the acidity to Stille Nacht and Oerbier, and that continues to this day.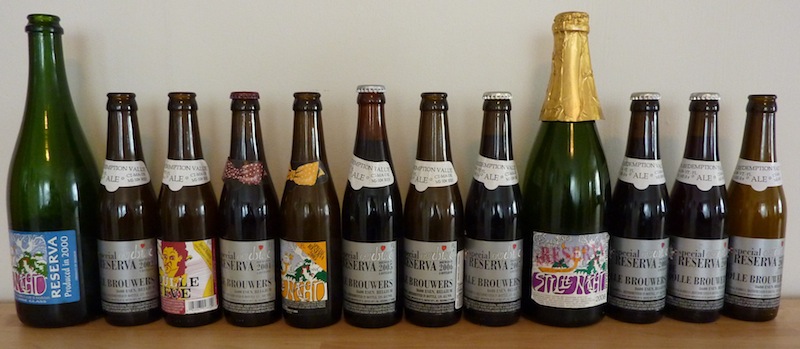 The Complete Reserva Series as of 1/2012, photo by Jonah Edwards
Dating Oerbier and Stille Nacht Bottles
"For the US we do not put freshness code because the importer does not want to put anything as 'best before' ... For local market, we put on the cap a best before date on, because the law here obliges that and does not allow a bottle date. "
1980-1991: No USA imports
Initially, bottles had no dates at all. Some can be distingushed by label variation, but a complete corpus of indexed labels does not exist. I have taken some photos (below) which may help to enlighten.
The very first bottlings were in used flip-tops -- the 1981 "black label" Oerbier and the original Speciaal Brouwsel are the only ones I have photographs of. In 1982 the Oerbier was bottled in a capped 330ml, which remains (relatively) unchanged to this day.
By 1988, bottles of Stille Nacht were being labeled with year-specific labels. In 1989, labels were produced for both Stille Nacht and Oerbier which could be notched to indicate the year, up through 1991.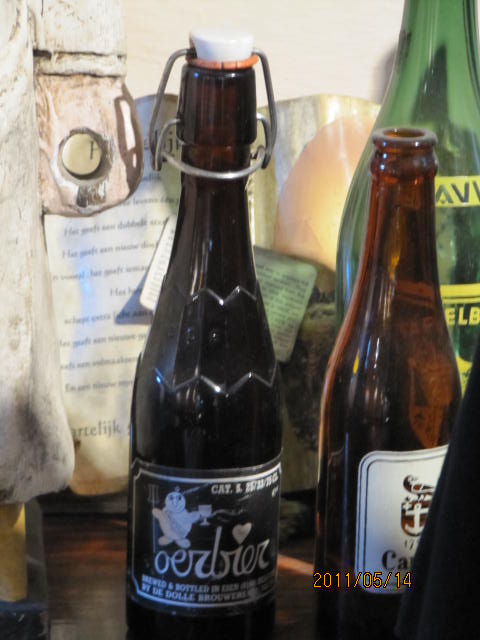 1981 Oerbier, photo by Sean Clark at De Dolle, 05/2011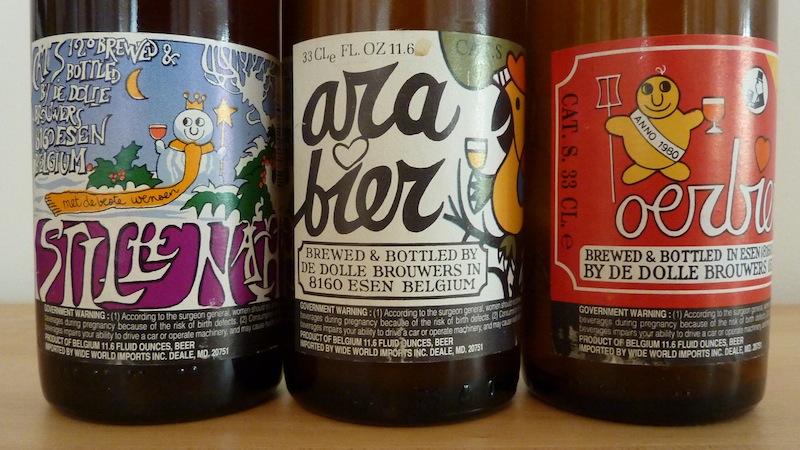 World Wide Imports Bottles, photo by me 01/2012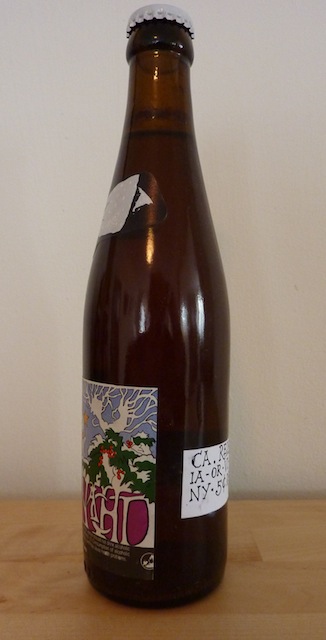 Unusual Redemption Label, photo by me of bottle from Mike Wright
1991-2000: USA imports through World Wide Imports
World Wide Imports (WWI) was founded by the owners of the Brickskellar Bar in Washington, D.C. in order to import foreign beers for their bar and a small group of other bars and stores (in a sometimes controversial manner). WWI received label approval in 1991 for Oerbier, Boskeun, and Stille Nacht (note that their lab test of Stille Nacht revealed only 6.7% ABV!).
Unfortunately I don't have any import bottles known to be from 1991-1995, so I can't explicate the label variation there. It's known that WWI brought in SN bottles in 1991 using the Belgian label (see label approval above -- most likely with a sticker to provide USA labeling), but I do not know when the tradition of replacing the "bow-tie" with a sticker containing redemption values began. As can be seen in the photograph, some bottles with a "World Wide Imports" front label and bowtie were brought in, and a custom rectangular redemption label was placed on the back. By 1996, WWI had custom labeling for Stille Nacht, but these bottles were not being label or stamp-dated.
Euro bottles from this period are also difficult to come by.
2001-present: USA imports through B. United
B. United began importing De Dolle in 2001. The earliest label approval I've been able to find was for the Speciaal Brouwsel 20 in March of 2001. Also reference an article from Cheers Magazine in July 2001 which states that B. United is bringing in De Dolle.
When B. United began importing De Dolle, they asked them not to date the bottles. Reliable date-stamping of Stille Nacht did not begin until the SPECBREW2005 batches, and subsequently with the 2006 Stille Nacht. Oerbier was not dated until January of 2010, when the new-style stamp was first used. This coincided with the inclusion of the 9%ABV in large letters in the upper right corner of the label, though there are some late 2009 bottles which include this feature but have no cap stamp.
Through the 2003 year, there were no barcodes on imported De Dolle bottles, which assists in distinguishing B. United-imported but unstamped bottles of Stille Nacht.
Euro bottles of Stille Nacht from this era are generally straightforward to date -- they are either stamped with the bottling year, or a date 5 years out.
In conclusion, dating De Dolle bottles is a land of contrasts.
The Speciaal Brouwsels
For their first anniversary, De Dolle brewed the original Speciaal Brouwsel, which was also the first prototype of what would later become Stille Nacht:
"I think the beer you refer to above is the Speciaal Brouwsel brewed for their first anniversary. ... This one is fantastic, being not only 20 years old, but also a curious hybrid of Oerbier and Stille Nacht - it was their first attempt at a Stille Nacht recipe, and marked an evolution from their first ever beer, the Oerbier."
This darker "hybrid" of what we consider to be Oerbier and Stille Nacht in the present day would give way to Stille Nacht by 1986:
"Now the 82 Stille Nacht, and 84..those do range up to 10-11% abv, according to Dirk Van Dyck. Of course the beer was different then. From 82 to 84 SN was a darker, heavier beer, then in 85 there was a transition and the beer was not quite as dark, then in 86 it is of the color it is today."
For the 20th anniversary of De Dolle, they rebrewed the recipe of the original Speciaal Brouwsel, calling it the Speciaal Brouwsel 20 and packaging it in 750ml corked and caged bottles.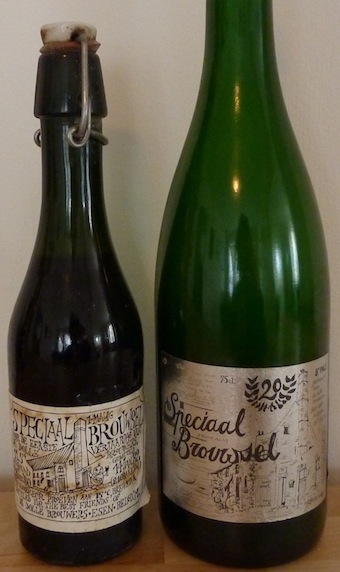 The Speciaal Brouwsels
De Dolle Stout
De Dolle introducted their "Export Stout" in 2004 and it was brought into the USA beginning in 2005. Bottles from the original shipments have red caps, bottles from the 2007/2008 shipments have plain white caps, and current bottles have a new-style date stamp on the cap.
Objet d'Dolle
Here are some pictures of posters and links to various bits of De Dolle swag
If you have any images or information that would fit in on this page, I'd love to see it. Please e-mail me at jonah.edwards@gmail.com